Landscape Water Features in Bozeman area Montana For Commercial and Residential Landscaping Projects.
Adding a water feature to your home or business can certainly help you to create that "Wow! factor.
Landscape Water Features in Bozeman area Montana For Commercial and Residential Landscaping Projects.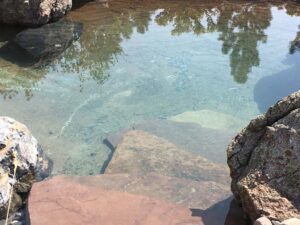 Gallatin County, Montana is home to breathtaking views of the Bridger and Gallatin mountains, the Gallatin River, Big Sky Resort, and the West entrance to Yellowstone National Park. Despite the immense natural beauty all throughout Gallatin County, your home can steal some of the spotlights with the addition of a landscape water feature. The Land-Escapes landscaping team has been serving Gallatin County since 1940 and is known for creating stunning water features such as re-circulating waterfalls and natural ponds.

Adding professionally planned water features to your home transforms your space into a functional work of art that you and your family will be able to enjoy for years to come. It's a form of creativity that showcases pride in the Gallatin Valley's natural beauty and gives you a tranquil space to escape to and relax in, right outside your own home. Whether you want to create a water feature as a focal point in your garden or you're looking to build a space that allows the trickling sounds of water to create a soothing ambiance, the Land-Escapes landscaping team can help you choose and construct the water features that are most ideal for your yard.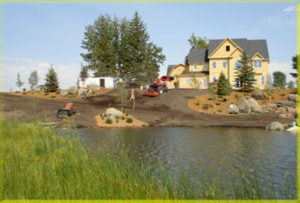 Landscape designer Jen Kloter points out in her landscaping article that in addition to creating an appealing visual impact, water features can be beneficial to more than just you and your family. Kloter notes that water features invite, "interesting visitors, like birds, dragonflies, frogs, and other wildlife" (Kloter, 2018). She also shares that stress relief is beneficial for health, having moving water as a water feature dampens sound which is great for noise reduction, and well-designed landscaping with water features can increase property values.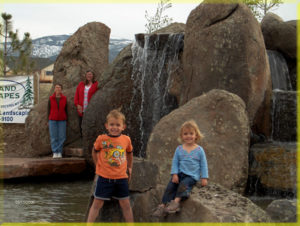 Gallatin County offers many outdoor activities but having a beautiful water feature to enjoy allows you to reconnect with your yard and the outdoors in a unique way within the comfort of your own home. The Land-Escapes landscaping team will help bring your vision to life, whether it's for a gentle waterfall, serene pond, or something more powerful and invigorating. The key is planning your water feature thoroughly so that it complements and enhances your current space.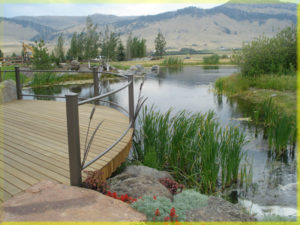 With water features, the design possibilities are limitless, but it can be difficult to construct and install them properly. There are also many things to take into consideration when planning your water feature. Keeping water moving with steady circulation can help to fend off pests that prefer still water, like mosquitoes, but if you are going to add fish or plants to the water feature it is important to use the right equipment (pumps, filters, and cleaners, etc.). Natural ponds can require a lot of digging and their liners can be punctured in you aren't careful. If container ponds aren't properly sealed, they can start leaking which can cause damage to the pond and the space around it (Unknown, 2011).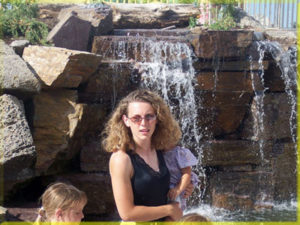 Adding a water feature to your home can certainly help you to create that "Wow!" factor for your yard, but it needs to be done the right way. The professionals from the Land-Escapes landscaping team have over 85 years of experience providing services to Gallatin County. For such an important task, you'll definitely want to have your water features professionally designed and installed. Each day, the LandEscapes landscaping team leverage their resources and expertise to share their award-winning water feature design and service with clients all across Bozeman Montana in Gallatin County. They'll even deliver the beauty of functional landscaping to Big Sky, Belgrade, and Three Forks, Montana as well, so make sure to reach out for a free consultation and start planning to bring your backyard water feature dreams to life. 
Sources:
Kloter, J. (2018). Using water features in your landscaping. Retrieved from https://www.bahlerbrothers.com/blog/using-water-features-in-your-landscaping
Unknown. (2011). Pros and cons of landscape water features. Retrieved from https://www.landscapeeast.com/blog/water-feature-designs-pros-and-cons-2011-11
Wise, M. (2017). Hot 2017 Trends: Landscape Water Features as Focal Point. Retrieved from https://www.iamgreenwise.com/landscape-water-features/
"Landscape to Live IN" throughout Belgrade, Bozeman, Clancy, Gallatin County, East Helena, Helena, Big Sky, Manhattan, Radersburg, Ramsay, Three Forks, Toston, Townsend, Winston Montana
One of the Land Escapes team's core specializations is using native boulders and beautiful water features to create stunning landscapes that can be enjoyed with more than just the eyes.