Employment Opportunities at Land-Escapes Inc.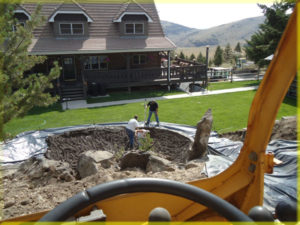 Are you creative and hard working? Do you love working out of doors? Do you thrive on new challenges and think you would enjoy a seasonal career? If you have a passion for plants, a gift for operating equipment, a talent for irrigation or a flair for supervising people, Land-Escapes Inc. wants your talent. We are always seeking great people for our growing business and are willing to invest in them.
Our work season is generally from March 1st through December 1st. This may be extended in any given year depending on project type and location.
We are a smoke and drug free company and offer: Great Pay, production bonuses, career tracks, weekly training.
You can download our application, fill it out (using a recent version of Adobe Reader) and e-mail to info@MontanaLandEscapes.com or print and mail or drop off at:
Land-Escapes Inc.   10 Sparrow Rd.   East Helena, MT 59635