The Land-Escapes Continuing Care Feature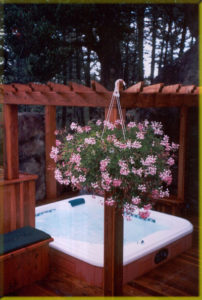 Our Continuing Care is built into qualifying landscape construction projects. This means that a Continuing Care Tech (CCT) will visit your home a total of 5 times over a 7 week period once your landscaping is completed. The CCT's first visit will be within 2 days of the project finish and then 4 more times over the next 7 weeks.
Our Continuing Care Tech (CCT) will:
Take your new landscape project from the finish of the Construction Team to a problem free, established landscape.
Be available to answer any of your basic care questions and concerns.
Be qualified to converting our 7 week care program to an annual maintenance contract, should you wish.
Visit One – Our CCT will introduce themselves as the person assigned to your project, and:
Remove all trunk protectors, strings, ribbons and tags from trees & plants.
Install deer defense plastic fencing to deer protect tree trunks and lower branches.
Install corrugated mowing guards on tree trunks in lawn areas.
Sweep and/or wash down driveway, patios and walks. Leave street, curb & gutter clean & tidy.
Prune all trees & shrubs.
Check all B&B trees to make sure that twine has been sufficiently removed.
Conduct a sprinkler system check for coverage, nozzle adjustment and drip emitter performance.
Conduct a general inspection of the project, looking for and correcting anything out of place.
Leave a completed CCT visit report.
Visit Two through Four – beginning one week after initial visit our CCT will:
Inspect the deer defense and adjust / repair if needed.
Inspect lawn areas looking for dry spots or stress. Adjust heads and/or clock as needed.
Inspect plants looking for:

signs of stress, aphids, bugs, beetles etc.
dryness, dis-coloring, wilting, animal damage.
tree ties that are too loose or too tight.

Conduct a general inspection of the project. Remedy as needed.
Leave a completed CCT visit report.
Visit Five – seven weeks after initial visit, Our CCT:
will set an appointment with you to answer any questions you may have about your new "Landscape to live IN."
provide you with details of our Annual Care program.
Landscape Care Services
Does the outdoor environment around your home or business take your breath away?
Is the first impression with guests all that you want it to be?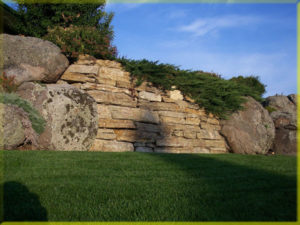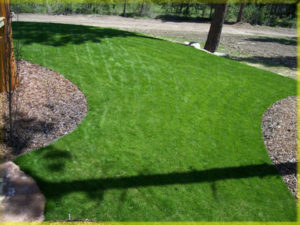 Ask about our premium Landscape Care Service.
Organic and commercial fertilizers.
Weeding, rock garden and flower beds.
Perennial flowers and colorful annuals
Hanging baskets and flower pots
Waterfall and pond care and more….
We bring the WOW factor to your "Landscape to Live In."
Contact Land Escapes Today!
---
Waterfall & Pond Care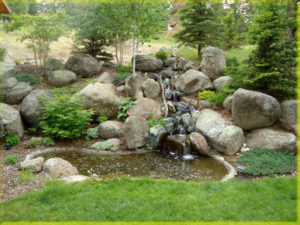 Do you have a Water Feature built by Land-Escapes? Get Our Waterfall Owner's Manual here:  Click here for a printable PDF copy or Call us and we will gladly send you a printed copy.
We have been building and maintaining water falls and ponds for over 50 years. This is one area of landscaping that people either love of hate passionately, depending on their experience with their water feature! If you're not enjoying yours as much as you would like, call us. We can help.
Please consult this manual for proper care and winterization of your water feature to assure that freezing temperatures do not damage your water feature.
---
NOTE: Even if your water feature was built by someone else, you will find helpful information here.