Landscaping Retaining Walls for Commercial and Residential projects under the Montana Big Sky
Retaining Walls in your Bozeman Area and Helina Area Landscaping Design Project.
There are many elements that when added to your property can increase both its functionality and visual appeal. One of the most overlooked additions that property owners around Bozeman, Montana should consider is the retaining wall. Not only can they help your property resist the constant pull of gravity, but they can be used to hold back the erosion that takes place over time as well. However, the purpose of a retaining wall can be more than just utilitarian, because there are other uses for retaining walls as well.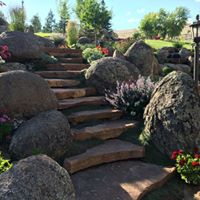 Design specialist Erica Reitman notes that there are more uses for retaining walls than just "holding back soil" (Reitman, 2018). The way that retaining walls can be incorporated in order to create a beautiful and functional outdoor living space speaks to their versatility. Of course, it's important to have a professional landscape service provide the necessary planning and resources for bringing your dreams to fruition since a poorly made retaining wall can break under stress and weight of the land during heavy rain.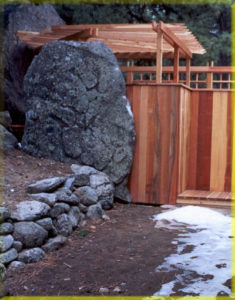 Master gardener and general contractor Glenda Taylor notes in her Bobvila article that retaining walls can, "transform unworkable inclines into usable outdoor spaces for the garden… (but) require a good deal of planning." Steven, Jay, Prescott, and Sam, along with the entire landscaping team at LandEscapes have over 85 years of experience in designing and building exceptionally beautiful outdoor landscapes that are functional across Bozeman, Montana. When you consider that well-made retaining walls can "contribute to the stability of your house" (Unknown, 2011) it just makes sense to hire a local professional team that you can trust. When it comes to planning the ideal retaining wall for your outdoor space, the Land-Escapes landscaping team gives you a variety retaining wall choices to achieve the look that best fits your personal tastes from natural stone, ledge stone, boulder, or block to compliment the natural beauty of the Bozeman, Montana landscape.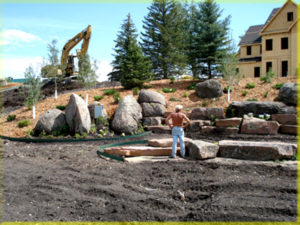 No matter what material you choose to use for your retaining wall, just by having the LandEscapes landscaping team build one on your property you can make your landscaping more manageable, provide you with extra seating and space to entertain guests or create a pleasant space to relax with your family. Retaining walls are also excellent for helping to slow the flow of runoff water which can help prevent water pollution and land damage.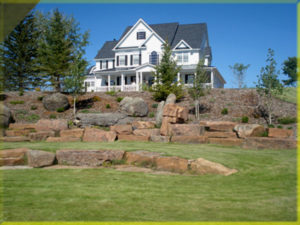 But how do you know that you'll benefit from a retaining wall? The Land-Escapes team can come out and evaluate whether your home is at risk of erosion due to a sliding hill threatening your foundation. Other practical reasons to add a retaining wall include when the location of your property is downhill from soil fault lines, and if you need to reduce the angle of a slope while holding back soil (Unknown, 2011). The Land-Escapes landscaping team can help you decide on the retaining wall that's right for you regardless of the reason that you decide to build one.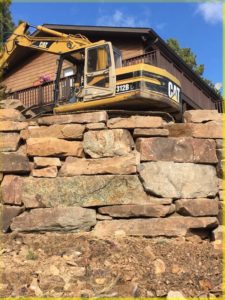 So, if you're ready to turn your steep sloped yard into a terraced backdrop or to create some stunning and unique visual features on your land, a retaining wall is a great choice for you. The Land-Escapes landscaping team can take care of the numerous planning elements such as deciding if a single wall or a multiple tiered walls is most appropriate, ensuring that the walls are level, allowing for proper draining, backfilling the space behind your choice of wall material, and packing down (tampering) the backfilled sand or gravel properly. 
Sources:
Taylor, G. (n.d.). Dos and don'ts of building retaining walls. Retrieved from https://www.bobvila.com/articles/building-retaining-walls/
Reitman, E. (2018). 10 things you must know about retaining walls. Retrieved from https://www.diynetwork.com/how-to/outdoors/hardscape/10-things-you-must-know-about-retaining-walls-pictures
Unknown. (2011). Do you need a retaining wall? Retrieved from https://www.landscapeeast.com/blog/do-you-need-a-retaining-wall-2011-08
Retaining Walls and Landscaping Projects in Montana
Commercial and Residential Retaining Walls under Big Skies in Montana