The Overlook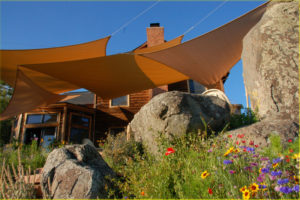 This home is perched high above one of the most popular lakes in Montana. With a southern exposure there was a need for some serious shading. This client put the icing on the cake by designing a system of "sails" stretched from cables which are attached to steel posts. Very effective while not interfering with their amazing views of the lake and the valley below. After hiring a building contractor to add a sun room to their home they hired Land-Escapes to design and build a multi-level deck and patio entertainment paradise. The wrap around deck steps down to a heavily shaded lower stone patio with access to the home's lower level. Large boulders and stone steps allow for a relaxed stroll through a field of wild flowers to the sprawling lawn area.
This property is a great example of landscaping that was never really done well in its design or execution. Budget was probably the deciding factor at every turn. The tiered slope was accomplished with railroad ties that were not installed very well, were leaning significantly forward and were just plain ugly. Here is a MontanaLandEscape-ism: "The only place railroad ties belong is under a train!" Out they came.
Homes with steep slopes provide so much opportunity for creativity. We used wood and stone to create several levels of entertainment space for this client. The composite decks and steps are mingled with dry laid slate patios and both are interrupted with large moss boulders protruding upward at just the opportune place to act as a railing or newel post. The hot tub sits on its own lower deck and is ever so slightly cut into the main deck so as to make it easy getting in and out.
Whether they are soaking in the tub, sipping a glass of wine in the evening warmed by the gas fire-pit, having morning coffee up near the sun room or mingling with party guests in separate but connected dining areas, all enjoy the views grandeur- both near and far.