From Disaster to Dramatic
Protection from the wind and other elements often poses design challenges. This homeowner wanted a completely re-designed deck and hot tub enclosure that would serve their outdoor entertaining needs. Since there was already a magnificent outcropping of huge moss boulders we decided to nestle a small deck in among them with a sunken hot tub surrounded with planters, lattice work and pergola. The larger deck serves as the main area to entertain or just relax with the gentle sounds of a small waterfall in the background.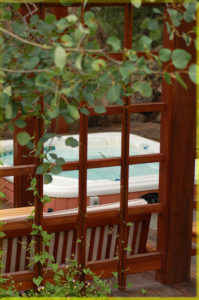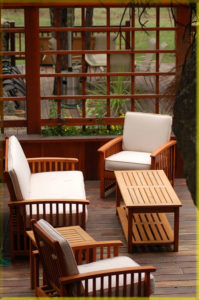 We began by demolishing the existing gray painted redwood deck. We needed some concrete pads for our deck support and to set a couple large anchor boulders on. We then "mud them in" so that they will never move. This is extremely important when you see how tightly we scribe our planters and deck to them. The back surface for our pergola and hot tub area is a part of a large up-cropping of beautiful moss boulders. This one particular piece is well over 12 ft tall and weighs hundreds of tons.
The wind that comes between the house and the mountain can be severe at times so our design had to take that into account. Part of the solution was to re-located an 18 ton boulder for uses as part of the windbreak.
With all of the weight on one end of the deck, we built a large stone faced planter as a corner of the opposite end. This balanced things out in a very creative and dramatic way while at the same time it provides a little more feeling of intimacy on the main deck. The existing Ponderosa Pines were framed around and serve to break up the area a bit.
The planters are equipped with drain hoses fitted into copper planting pans and serve to create a very private sitting area near the hot tub. A small waterfall completes the creation of an out of this world relaxation space! This is truly a "Landscape to LIVE in."